【詐欺】偽警告の消し方2つとブラウザ画面ロック実例15 電話サポート詐欺に注意!
ネットサーフィン中にいきなり突然リダイレクトして目の前に表示された
ウイルス感染やセキュリティ警告を装う詐欺ページ
の実例を画像でドドーンと紹介です。

■ ウイルス検出やウイルス感染の偽警告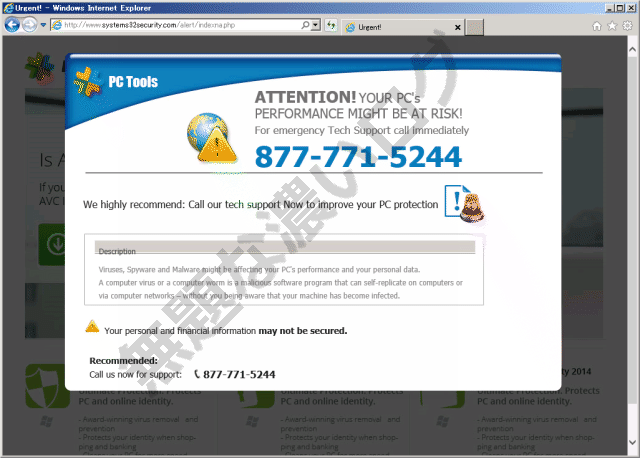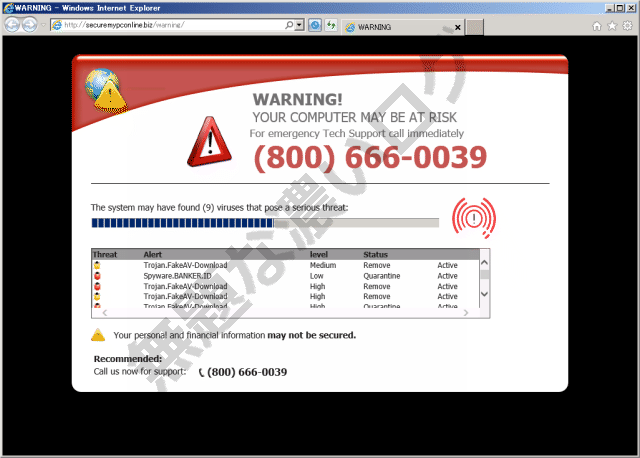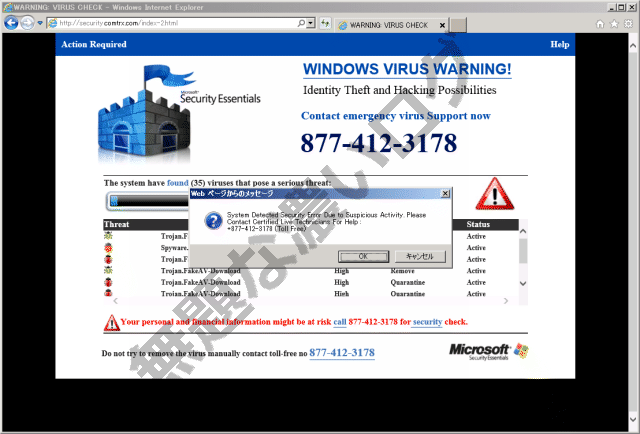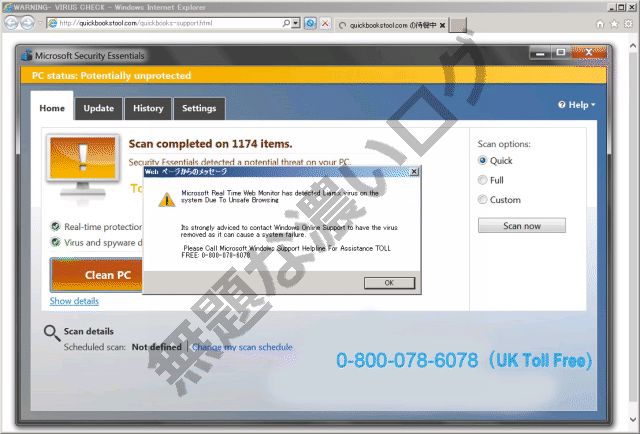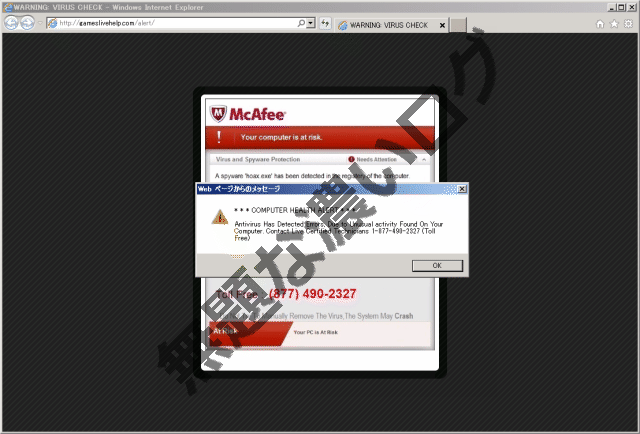 ■ マイクロソフトサポートを装う偽警告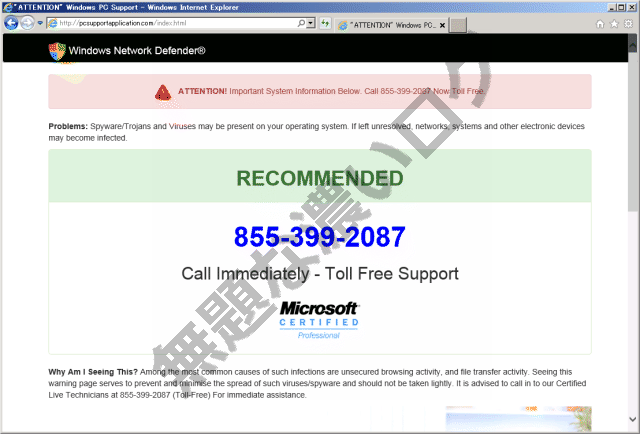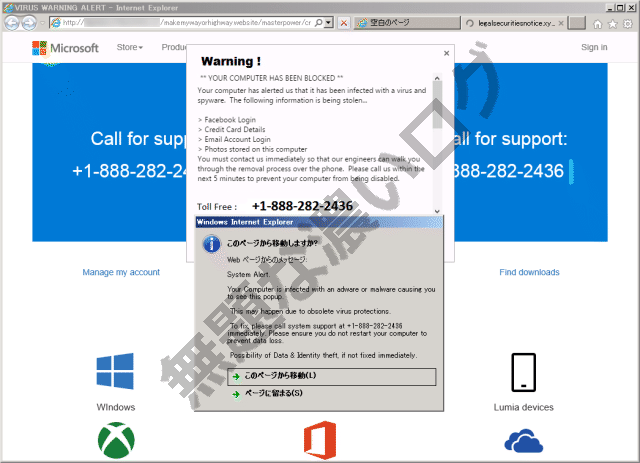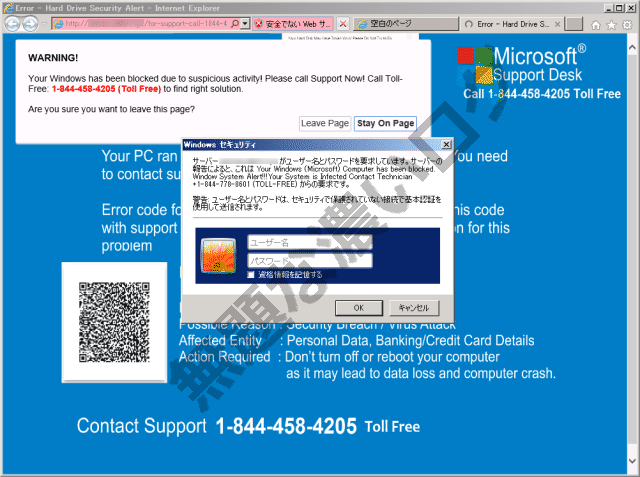 ■ WARNING! で驚かす偽警告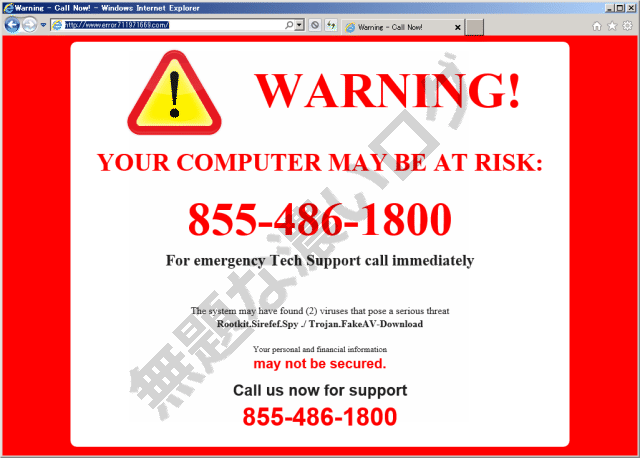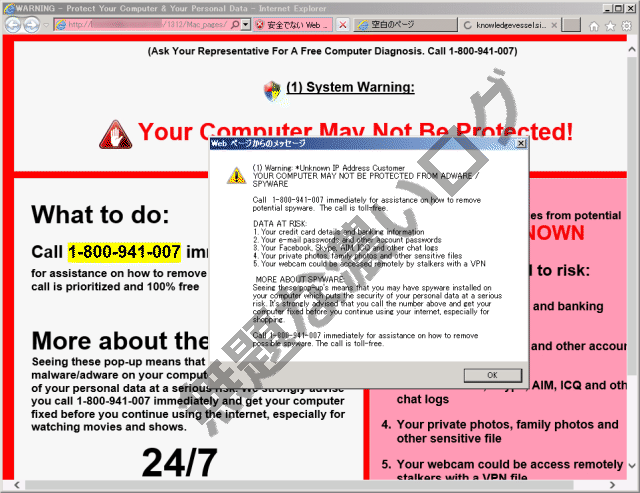 ■ Apple 騙り Mac ユーザー狙う偽警告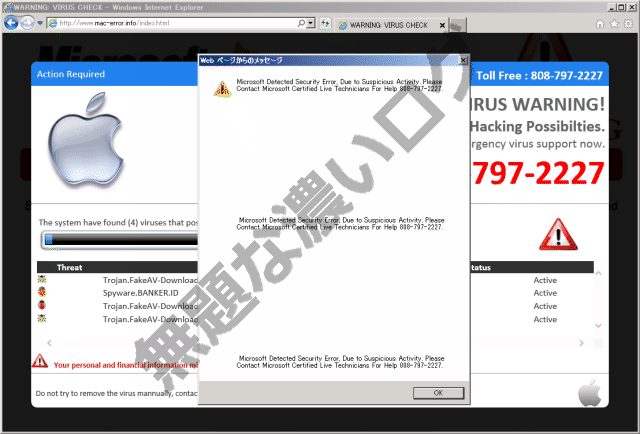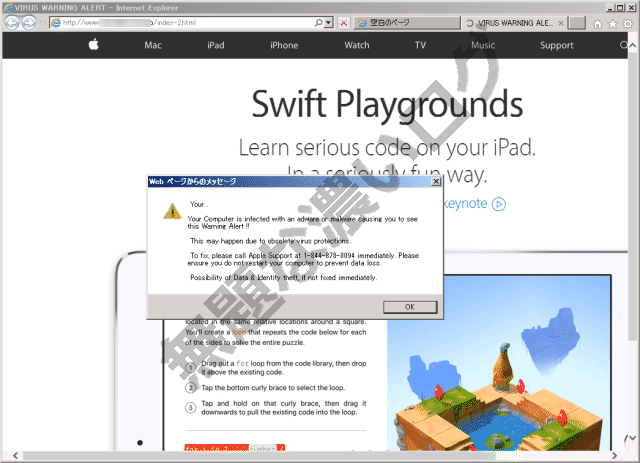 ■ Windows ブルースクリーンエラー風の偽警告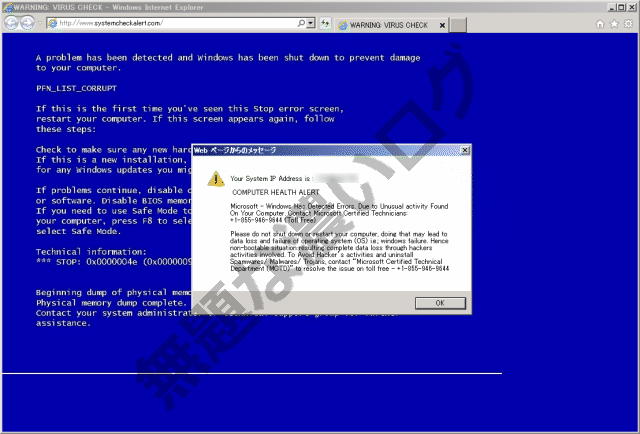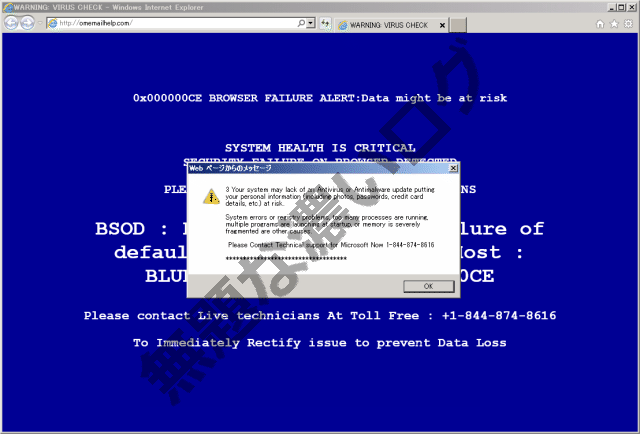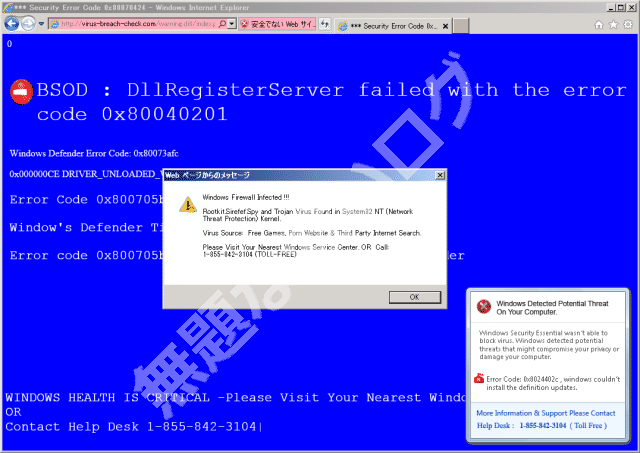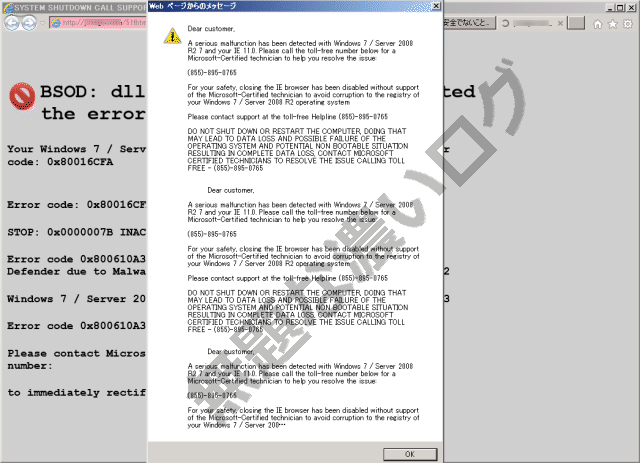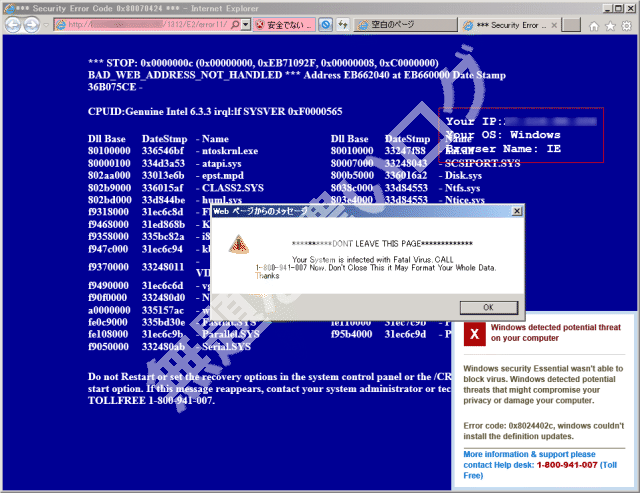 この脅威は 「サポートセンター」「カスタマーサポート」「マイクロソフトサポート」 を自称する サポート電話番号 へ電話で問い合わせるよう誘導することを目的にしてます。
電話をかけると、相手は PC 遠隔操作ソフトをインストールするよう仕向け、PC をいろいろと覗いた上で、最終的にクレジットカード決済で有償の PC サポート契約を向こうの言いなりで結ばせます。

日本も含む世界中で確認されてる Tech Support Scam(電話サポート詐欺、技術サポート詐欺) と呼ばれてる詐欺の手口です。
偽警告ページの消し方&削除方法は?
そのダイアログの [OK] [キャンセル] ボタンを押しても、同じダイアログが再び表示されて、無限ループの状態へ突入して抜け出せなくなるトラップです。

<完全に
ブラクラ
のようなふざけた演出
ブラウザの画面がロックされたかのような状況から、「消えない」「消せない」「消したい」 を解決する削除方法2つがコチラ♪

《1》 ショートカットキーで偽警告を消す方法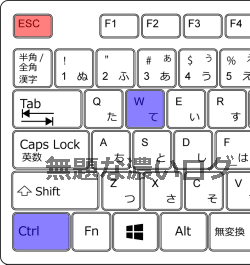 ~ ダイアログ消すショートカットキー ~
Firefly「ESC」
~ タブを閉じるショートカットキー ~
「Ctrl + W」「Ctrl + F4」「Alt + F4」
「Command + W」
《2》 ブラウザの強制終了で削除する方法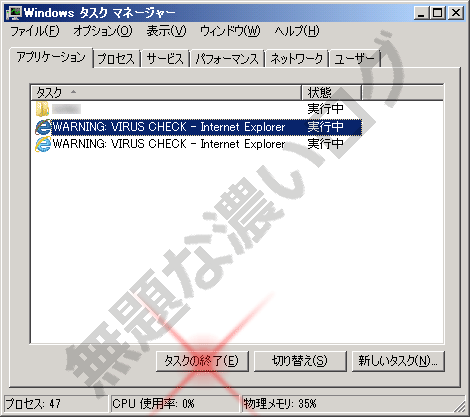 タスクマネージャーでブラウザの強制終了
なお、この偽警告ページはブラウザ上で行われる演出なので、Windows パソコンだけではなく、Mac OS X、Androidスマホ、iOS(iPhone/iPad) といった環境も狙われます。
偽警告に表示される英語のメッセージ例
WARNING!
YOUR COMPUTER MAY BE AT RISK
For emergency Tech Support call immediately
(***) ***-****
The system may have found (*) viruses that pose a serious threat:


Rootkit.Sirefef.Spy ./ Trojan.FakeAV-Download


Your personal and financial information may not be secured.
Recommended:
Call us now for support: (***) ***-****
ATTENTION! YOUR PC's
PERFORMANCE MIGHT BE AT RISK!
For emergency Tech Support call immediately
***-***-****
We highly recommend: Call our tech support Now to improve your PC protection
Description
Viruses, Spyware and Malware might be affecting your PC's performance and your personal data.
A computer virus or a computer worm is a malicious software program that can self-replicate on computers or via computer networks - without you being aware that your machine has become infected.
Your personal and financial information may not be secured.
Recommended:
Call us now for support: ***-***-****
VIRUS WARNING!
Identity Theft and Hacking Possibilties.
Contact emergency virus support now.
***-***-****
The system have found (*) viruses that pose a serious threat:
Trojan.FakeAV-Download
Spyware.BANKER.ID
Trojan.Fake.Browser.exe
Your personal and financial information will get effected call ***-***-**** to be secured.
Recommended:
Call us now for support: ***-***-****
WARNING: VIRUS CHECK
Action Required Help
WINDOWS VIRUS WARNING!
Identity Theft and Hacking Possibilities
Contact emergency virus Support now
***-***-****
The system have found (*) viruses that pose a serious threat:
Threat | File Name | Alert | level | Status
Trojan.FakeAV-Download Medium Remove Active
Spyware.BANKER.ID Low Quarantine Active
Trojan.FakeAV-Download High Remove Active
Trojan.FakeAV-Download High Quarantine Active
Your personal and financial information might be at risk call ***-***-**** for security check.
Do not try to remove the virus manually contact toll-free no ***-***-****
Action Required Toll Free : ***-***-****
MAC VIRUS WARNING!
Identity Theft and Hacking Possibilties.
Contact emergency virus support now.
***-***-****
The system have found (*) viruses that pose a serious threat:
Threat | Alert | level | Status
Trojan.FakeAV-Download Medium Remove Active
Spyware.BANKER.ID Low Quarantine Active
Trojan.FakeAV-Download High Remove Active
Your personal and financial information might be at risk call ***-***-**** for security check.
Do not try to remove the virus mannually, contact with toll-free no. ***-***-****
Your System IP Address is : ***.***.***.***
COMPUTER HEALTH ALERT
Microsoft - Windows Has Detected Errors. Due to Unusual activity Found On Your Computer. Contact Microsoft Certified Technicians: +1-***-***-**** (Toll Free)
Please do not shut down or restart your computer, doing that may lead to data loss and failure of operating system (OS) i.e.; windows failure. Hence non-bootable situation resulting complete data loss through hackers activities involved. To Avoid Hacker's activities and uninstall Spamwares/ Malwares/ Trojans, contact "Microsoft Certified Technical Department (MCTD)" to resolve the issue on toll free - +1-***-***-****
0x000000CE BROWSER FAILURE ALERT:Data might be at risk
SYSTEM HEALTH IS CRITICAL
SECURITY FAILURE ON BROWSER DETECTED
PLEASE CONTACT CERTIFIED LIVE TECHNICIANS
BSOD : Error 333 Registry Failure of default Internet browser - Host :
BLUE SCREEN ERROR 0x000000CE
Please contact Live technicians At Toll Free : +1-***-***-****
To Immediately Rectify issue to prevent Data Loss

0x000000CE DRIVER_UNLOADED_WITHOUT_CANCELLING_PENDING_OPERATIONS
WINDOWS HEALTH IS CRITICAL
DO NOT RESTART
PLEASE CONTACT MICROSOFT TECHNICIANSS
BSOD : Error 333 Registry Failure of operating system - Host :
BLUE SCREEN ERROR 0x000000CE
Please contact microsoft technicians At Toll Free : +1-***-***-****
To Immediately Rectify issue to prevent Data Loss
0x000000CE DRIVER_UNLOADED_WITHOUT_CANCELLING_PENDING_OPERATIONS
SYSTEM HEALTH IS CRITICAL
DO NOT RESTART
PLEASE CONTACT COMPUTER TECHNICIANS
BSOD : Error 333 Registry Failure of operating system - Host :
BLUE SCREEN ERROR 0x000000CE
Please contact computer technicians At Toll Free : 1-***-***-****
To Immediately Rectify issue to prevent Data Loss
Windows Network Defender
ATTENTION! Important System Information Below. Call ***-***-**** Now Toll Free.
Problems: Spyware/Trojans and Viruses may be present on your operating system. If left unresolved, networks, systems and other electronic devices may become infected.
RECOMMENDED
***-***-****
Call Immediately - Toll Free Support
Why Am I Seeing This? Among the most common causes of such infections are unsecured browsing activity, and file transfer activity. Seeing this warning page serves to prevent and minimise the spread of such viruses/spyware and should not be taken lightly. It is advised to call in to our Certified Live Technicians at ***-***-**** (Toll-Free) For immediate assistance.
BSOD : DllRegisterServer failed with the error code 0x80040201
Windows Defender Error Code: 0x80073afc
0x000000CE DRIVER_UNLOADED_WITHOUT_CANCELLING_PENDING_OPERATIONS
Error Code 0x800705b4 when Starting Windows Defender
Window's Defender Time Out Error code 0x800705b4.
Error code 0x800705b4 when trying to open windows defender
WINDOWS HEALTH IS CRITICAL -Please Visit Your Nearest Windows Service Center
OR
Contact Help Desk 1-***-***-****
SECURITY WARNING!
You have a Trozan! Please call Support Now!
Call Now to Report This Threat. Call: +1-844-***-****
Do not Click 'OK' button below, Dont Turnoff The Computer.
Report This Threat. Call: +1-844-***-****
Microsoft Official Support
Official Apple Support

https://support.microsoft.com says:
YOUR COMPUTER HAS BEEN BLOCKED
Error # 268D3-XC00037
Please call us immediately at: +1-844-***-****
Do not ignore this critical alert.
If you close this page, your computer access will be disabled to prevent further damage to our network.
Your computer has alerted us that it has been infected with a virus and spyware. The following information is being stolen...
> Facebook Login
> Credit Card Details
> Email Account Login
> Photos stored on this computer
You must contact us immediately so that our engineers can walk you through the removal process over the phone. Please call us within the next 5 minutes to prevent your computer from being disabled.
Toll Free: +1-844-***-****
・

セキュリティソフト検出名例
ブラウザ上で警告ダイアログを表示して無限ループする不正な JavaScript コードをセキュリティソフトは脅威として検出することがあります。
【Windows Defender ウイルス定義名】
Rogue:JS/FakeAlert Rogue:JS/FakeCall.A Rogue:JS/FakeCall.B Rogue:JS/FakeCall.C Rogue:JS/FakeCall.D Rogue:JS/FakeCall.F Rogue:JS/FakeCall.G Rogue:JS/FakeCall.H Rogue:JS/FakeCall.I Ransom:JS/FakeBsod.A Rogue:JS/TechBrolo.A Rogue:JS/TechBrolo.B Rogue:JS/TechBrolo.C Rogue:JS/TechBrolo.D Rogue:JS/TechBrolo.E Rogue:JS/TechBrolo.F Rogue:JS/TechBrolo.G Rogue:JS/TechBrolo.H SupportScam:JS/TechBrolo.A SupportScam:JS/TechBrolo.L …

なお、これらウイルス検出名で Google や Yahoo! を調べると、有償ウイルス駆除ツールの
SpyHunter5
や
ReimageRepair
を騙して導入させることを意図した詐欺サイトが大量ヒットするのでご注意を~。


<邪魔すぎ~
関連するブログ記事
タグ :